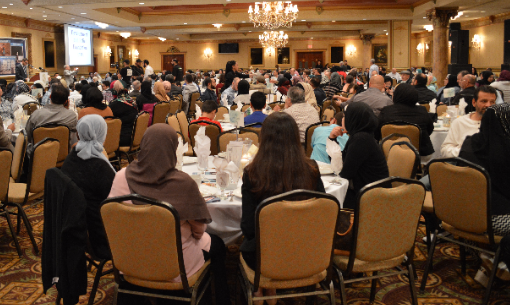 Dearborn – Nearly 800 community members attended the halls of the Bint Jebail Cultural Center to help raise $200,000 to fund essential needs and education for Iraqi orphaned children.
The fundraiser event was the first annual dinner of the Imam Al-Sadiq Orphanage. The event was hosted in association with the Development and Relief Foundation.
Many residents attended the great event. Chuck Hage, a long-term resident, recalled the time he spent with a group of children at the orphanage which he said 'broke him' and opened his eyes. He explained how when you look into the eyes of the children, you constantly remember how they could be your kids in the same position. You have to see the situation in front of you to believe it, about the living conditions. Hage argues that visiting the place will change your perspective of the meaning of life.
Hage embarked on a campaign urging Muslim and Arab Americans to visit the orphanage instead of paying excessive money for luxurious holidays and travelling trips. Muslim and Americans spend millions of vacations every year, and such money could be used to make a difference where it's really needed.
Also, Hussein Nasser, another resident, also expressed his awe regarding his visit, labeling it 'a humble experience' to be able to interact and engage with the orphan children. He explained how they were able to observe the children and to gain a real insight into what they were learning and doing at the orphanage.
After visiting the children, many visitors were inspired to spread the word to other community members. They encouraged people to give donations and funds for much-needed resources such as shelter, clothing, food, education and medical supplies.
The valuable donations would provide around 6,000 orphans with the essentials they require and help around 450 children with quality education.
Nasser claims that if it weren't for such events and organizations then the children would be left to roam the streets. All amounts of forms of donations are welcomed. Every donation will help make a significant change towards a child's quality of life in the orphanage. So regardless of how big or small, your donation can help.