Women of the Islamic Institute of Knowledge have made efforts to address many of the social issues which mosques and community centers often come across in addition to the regular services. They have established a community outreach organization known as C-ASIST.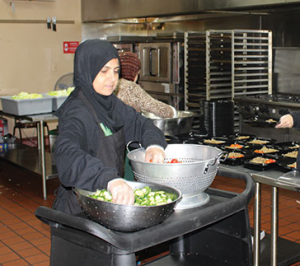 Running this organization provides free and healthy meals to children in need throughout the entire duration of the summer. Their "Meet Up and Eat Up" program is just one of their initiatives which they have organized for the community.
Other events hosted by C-ASIST include a forum to discuss mental health and classes to study English as a Second Language for adults, as well as job training programs. Their food projects which reach out to children is funded utilizing a state grant, and they welcome children from all religions and backgrounds. C-ASIST founder, Nancy Berry states that "The goal is no child would be left hungry." In addition to serving meals, they also deliver food to children in need
In July, C-ASIST hosted an informative session on Child Associate Credential Training to present various means for individuals to obtain child care certificates. The aim of sessions such as these is to empower women to enter the workforce. Those who haven't yet had the opportunity to go to college or don't have the means to do so, can get certified and start a new career. The program was also open to men who were interested in child care.
ESL classes were organized at the religious center, which attracted many refugees. One of the most vital projects was that of the mental health conference in August. The Arab community has struggled with this issue over the past two years, and it became necessary for leaders in this area to break down the stigma associated with mental health. A suicide prevention walk was organized at Hemlock Park in Dearborn in the hopes that it would raise awareness and reduce the stigma surrounding it.

C-ASIST board member, Zeina Berry who is also a pharmacist mentioned that the organization aims to address the mental health issue from a medical perspective. She wants the community to know that it is a treatable disease and says, "This is where we're coming in to clarify this idea."
The event also addressed drug abuse which Zeina Berry said is rampant in the community at the moment. C-ASIST has recognized that it is also necessary to collaborate with other groups to deal with the war on drugs in the community.
With that being said, along with their numerous projects aimed at serving the community, C-ASIST hopes to unite the community and to break down barriers between people.