Looking for some meals which are not only quick and easy to prepare but also wholesome and tasty? Have a look through these options, quick Arabic dishes on the go which you can prepare in less than a half an hour. Each one has different flavors and ingredients making them suitable for each day of the week.
Shorbat Adas (Lentil Soup)
Sauté six chopped onions in a pan of olive oil until they are nice and brown.
Pour in five cups of water, then two cups of rinsed, orange lentils.
Bring to the boil and add chopped potatoes and a chopped carrot.
Cook for around twenty minutes.
Add spices and lemon to flavor.
Batata Wa Bayd (Potatoes and Eggs)
Sauté seven peeled potatoes chopped into cubes in olive oil for ten minutes or so.
Once the potatoes are ready and nice and soft, stir in four eggs.
Add a good sprinkle of salt and pepper to taste, and one tablespoon of crushed mint.
As a side serving, combine the dish with olives and chopped tomatoes and scoop it up with delicious Arab bread.
Kofta Burgers (beef patties)
Mix 1 pound of ground beef with a half a bunch of finely chopped parsley, one minced onion, and add salt and pepper as you like.
Roll the mixture into balls and then flatten them into patties.
Let them cook in the oven at three hundred and fifty degrees Fahrenheit for at least twenty minutes, checking on them from time to time.
Sfeeha (Meat Pies)
Mix one pound of ground meat with two chopped onions, salt, pepper and 'all spice' for some flavor.
Squeeze some lemon juice over the meat.
Spread a thin layer of your meat over flattened savory dough biscuits, you should use at least twenty.
Bake your mini meat pies for 15 minutes in the oven at three hundred and fifty degrees Fahrenheit.
Lahem Meshwi (Shish Kebob)
Marinate two pounds of either cubed beef, lamb, or chicken. Place the cubes into a deep dish of the marinade containing salt, pepper, one tablespoon of olive oil, crushed mine, and a few drops of red wine.
Place skewers through the pieces of meat as well as a few slices of onion, peppers, and tomatoes in between.
Broil slowly over hot charcoals for at least ten minutes. You may also do this on a broiler on the stove if you prefer.
Serve alongside hummus and Arab bread.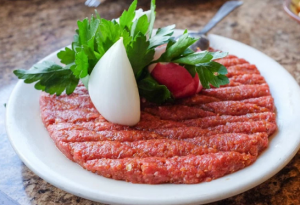 6. Kibbeh Nayyeh (Raw Kibbeh)
Mix two pounds of lean beef or lamb mince, or a combination of these two if you prefer.
Add one and a half cups of soaked and squeezed fine, cracked wheat.
Grind one large onion, add salt and pepper, pour in a half a cup of cold water and add it to your mince.
Knead the meat well and garnish it with a drizzling of olive oil and serve with onions and Arab bread.
Ghalabeh (Sautéed/Stir Fry Meat and Vegetables)
Add two pounds of finely chopped ground steak or chicken and brown it in a frying pan
Toss in one chopped green pepper, half a pound of chopped mushrooms, one chopped medium onion, and a chopped tomato.
Add salt and pepper to taste and scoop it up with some Arab bread.