In a cultural exchange of food and history, Arab-American and Latino communities in Orange County got together for a culinary tour of Little Arabia.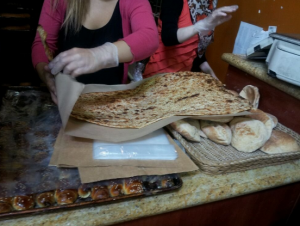 At the start of the taste tour, the group was taken to Fresh Choice Marketplace in Garden Grove, which is a great choice for multicultural food shopping. There, they were showed all sorts of cultural delicacies by the co-owner of the store, Ibrahim Oudeh.
In the marketplace, they also got a bite of Jerusalem bread to try, with za'atar on the inside and a sprinkling of sesame seeds. Passing by the meat market, they learned more about halal and what it means to Muslims. They got to sample beef and chicken shawarma and were told all about the Lebanese who introduced the art of carving meat off a spit to Mexicans.
Next, they took to the Brookhurst Street corridor into Anaheim where there are numerous restaurants. They stopped off at Kareem's, which is now the oldest Middle Eastern restaurant in Little Arabia. Nesrine Oumra is known as the "falafel queen" at Kareem's and handed the group several trays of her falafels, fattoush salad, baba ghanoush and hummus.
The Olive Tree restaurant was the last stop on the taste tour for the Arab-American and Latino group, who were treated to tacos and enchiladas by the co-owner of the restaurant, Alan Abdo. They were then served a real menu which included sayadieh samak, which is fried fish, on a bed of delicious rice as well as slow-cooked tender lamb shanks.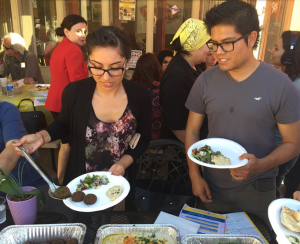 Abdo mentioned that there are so many misperceptions about Arabs. He is a Palestinian-American and says that he loves it when non- Arabs come into the restaurant, have an amazing evening and leave realizing that Arabs are not as volatile as the media portrays them to be. Once they have tasted the food and felt the warmth and hospitality, they are sure to return.
Arab hospitality does a lot when it comes to "easing apprehensions." The delicious food is just a bonus which one can't get enough of and keep coming back for more. At the end of the taste tour, the group was "satiated and educated." The turnout was great with even more people than expected who learned a little more about one another's history. The tour is a fun way for Latinos and Arab-Americans to get together and share meals in little Arabia to learn more about other cultures.