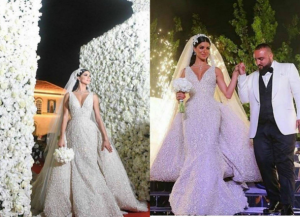 Rima Fakih was born and raised in Lebanon and moved to America in 1993. Her crowning as Miss USA in 2010 caused much excitement for Lebanese around the world. She recently tied the knot, celebrating an elaborate wedding occasion in Lebanon last month. The Lebanese communities worldwide raved about her wedding, with many of Lebanon's music celebrities attending the ceremony, including Haifa Wehbe.
Rima looked gorgeous in her wedding gown created by Elie Saab, a Lebanese designer. The dress was adorned in beautiful beadwork, which took 1846 hours to make, requiring a total of 45 people to complete it, and cost over half a million dollars. The low-cut, mermaid style creation turned heads, and Lebanese admirers went crazy over it!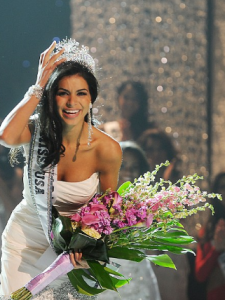 Her husband, Salibi, who is 35, is a successful music producer, being recognized by Billboard as being an extremely influential producer at such a young age. He has produced music for The Weekend and seen some of his hits receive Grammy awards. The couple was also fortunate to have the weekend performing for their guests at their wedding reception.
When Rima took the crown as Miss USA, she was the first Muslim-Arab women to do so. Rima came from a family of both Muslims and Christians and was living as a Shia Muslim during her reign. Shortly before her wedding, she converted to Christianity, which led to much controversy surrounding her marriage.
She says, "I have a family that is a mix of different religions and different ethnicities," and "my brother-in-law is Christian, and he baptized their two sons. I have an uncle who converted to Christianity, and he's a priest now." Following her conversion to Christianity, Rima has received a fair amount of criticism, especially on social media. She does, however, state that she would rather be hated for who she is than loved for who she is not.