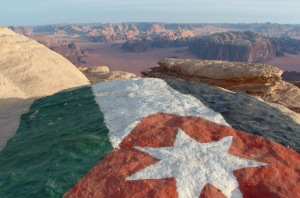 Jordan's 69th birthday was quite a spectacle to see as a wave of enthusiastic countrymen and patriots joined in to celebrate the inception of their beloved country. Jordan won its independence from the British on May 25 in 1946 and since then has not looked back to this day. A journey of a productive 68 years has seen them climb up to be a middle-income country, as well as be known as a country of "high human development" by the 2014 human development report.
The celebration of the Arab Revolt which happened in 1916 also starts from days prior beginning with Jordan's Independence Day. The late King Abdullah started the Great Arab Revolt where Arab rule was secured in Syria and Jordan, among others in the Arab peninsula. Jordan's first government was formed in March 1947.
According to news issued by Jordan's Prime Minister Abdullah Ensour, most of the workplaces in the public sector will remain closed in celebration of the Independence day, and this will include the ministries as well. This year, however, Jordan will be celebrating among difficult times as they are hosting above 600000 Syrian refugees and their economy is being substantially burdened by it. However, this will not deter the countrymen and officials as they believe that helping their brethren is certainly the right thing to do, and it adds 600000 more people to celebrate alongside them. A grand celebration is on cue in the King Hussein Park in the Northwest of Amman. There will be a parade from King Abdullah Mosque all the way to army square. Somewhere around a hundred motorbikes will join those on foot for the colorful march. The ceremony will also include a plethora of musical activities and fireworks. Famous modern bands, as well as folk groups, will entertain the participants and viewers present. The Greater Amman Municipality also confirmed the inclusion of local Arab folklore troupes such as Maan, Ramtha, Tafileh and Palestinian Aghanina and singer Miteb Saqqar. The authority is encouraging families to attend the ceremony as the country puts a high emphasis on celebrating Independence Day.
There will be an air show on behalf of the Royal Jordanian Falcons, which all the citizens will be able to enjoy. The phenomenon will not stop here as the Red Bull Skydive team would parachute from a helicopter at 5 pm, and this too will be open for everyone to view at the Hussain Park. The Greater Amman Municipality has taken strict security measures to ensure the safety of all the families and citizens who are present there. The celebrations will go on late into the night.
Recently, Prince Hussein met some of the members of the skydiving team at the Marka Military Airport, witnessing their rehearsals first hand. All of Jordan is in a festive mood for its 69th birthday and is acknowledged by other Arab leaders as His Majesty King Abdullah received good wishes from many Arab and Muslim countries around the world.