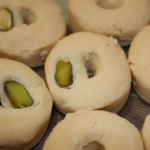 Ghraybeh is a Lebanese recipe for butter cookies, which are so delicious and just melt in your mouth. And are so easy to make! They are light and delicate with a "soft, understated sweetness." You will just love these. The cookies are white in color and are often served at Lebanese weddings as their white color is seen as a symbol of purity. These butter cookies have many variations. The recipe is simple, and you will be able to bake the most mouth –watering cookies in no time. Every Lebanese kitchen should have this recipe. The ingredients balance the flavors so that they are not too sweet and are enjoyed with tea and coffee.
Let's take a look at the ingredients. You will need the following: Two cups of softened butter, a cup of powdered sugar and a cup of granulated sugar. You will also need some flour, at least four cups.  Prepare two cups of blanched almonds and a teaspoon of clear almond extract. It should only take 15 minutes to make the mixture. Right, once you have all the ingredients ready, you can begin.
Firstly, preheat your oven to 300 degrees Celsius. While your oven is heating, beat the butter in a dish until it is soft. Next, add your sugars and blend them in gently. The next step is to add the almond extract and then add your flour in slowly. Use a beater to mix the flour and then stir it up with a spoon afterward. Your basic butter cookie mix is complete. It's simple and doesn't take long to prepare.
Chill your butter cookie mix in the refrigerator for at least one hour.
Sprinkle your surface with flour, just to prevent your dough from sticking.  Next, place the chilled cookie dough onto the surface. Roll the dough into a long rope of at least 2 inches in width. Next, cut it diagonally, into diamond shapes. Now they are ready for the oven.
Prepare your baking tray by placing a cookie sheet on the surface; it is not necessary to grease the surface of the sheet. Place your cookies, evenly spaced, onto your sheet and put an almond in the center of the cookies.
Bake your cookies for at least 12 minutes and they should be ready.  Once they are ready to take out the oven, remove them and leave them to cool on a cooling rack.
Once your cookies have cooled, sprinkle them with powdered sugar.
So, this simply, delicious recipe can be made in less than a half an hour, and once you've tried these, you will use this recipe again.