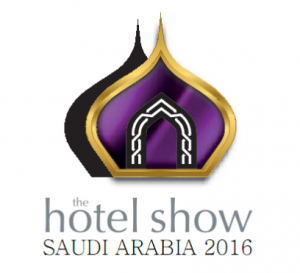 The Hotel Show Saudi Arabia, known as DMG events and MICE Arabia took place on 17-19th May. The prestigious event was held at the Jeddah Centre for Forums and Events. Prince Addullah Bin Saud Bin Mohammed Bin Abdul Aziz Saud, who is the Chairman of the Tourism Committee in Jeddah, hosted the event.
The Hotel Show Saudi Arabia 2016 welcomed over 100 exhibitors and around 4,000 senior positions in charge of the decision-making, budget holders from the Kingdom's hotel, buyers, tourism, resort industries and the restaurant.
Christine Davidson, Dmg events hospitality event director, shared her thoughts on the event. She spoke highly of the event and explained how they are honored to have the Patronage of His Highness Prince Abdullah Bin Saud Bin Mohammed Bin Abdul Aziz Al Saud (chairperson of the Tourism Committee in Jeddah) for such an important and highly popular business event, which affected the hospitality market substantially. Currently, there are 72 hotels and 34,415 rooms under construction in Saudi Arabia. The high amount of inbound tourists predicted to visit over the next five years was the driving force behind such events. Saudi Arabia needs to upgrade what they have to offer and meet the high demand of customer needs. Due to a large volume of potential tourists, local, regional and international suppliers will ensure that the Kingdom remains at the top of the target list for business development and The Hotel Show promoted a way into the tricky but rewarding market.
The show was made bigger to accommodate the increasingly growing audience by adding additional exhibitors and products available. In 2015, there was a robust increase in buyers that attended the show. For attendees' ease and convenience, the show had sectors on the exhibition floor. This is similar to the way that they hosted their sister show, The Hotel Show Dubai. Attendees were able to view exhibitors depending on the sector that they are interested in, for example, security, technology, leisure and outdoors, etc.
The Hotel Show Arabia was the perfect time for new businesses to precisely find what they are looking for and to get connected in the industry. Purchasing Manager Khalid Aljack from Millennium Al Aqeeq Hotels explained how he plans to open around 20 hotels in the Kingdom. Last year's show helped him connect with all the right people.
The 2016 show was full of international exhibitors from countries including China, Pakistan, Turkey, USA, France, India and the UAE. Leading brands such as Silent Night, Soft Dreams, LG Electronics and CMT Technologies were all on show at the prestigious event.