Sally al-Bayati is a successful law student living in the northern city of Kirkuk, Iraq. She took an interest in Special Effects (SFX) makeup last year and had since begun creating theatrical prosthetics. One would not expect scenes showing bloody eyes and oozing open wounds to go viral, but these images have attracted many followers to Bayati's work.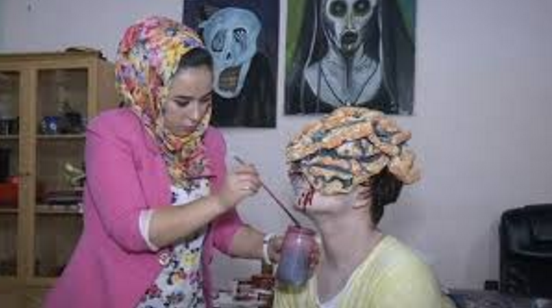 When she started doing SFX a year ago she did not receive any support or encouragement, and her family was not intrigued by the idea either as they did not like the sight of blood. It is an art which the people in Iraq find strangely unfamiliar.
Bayati decided that she needed some feedback on her work and began to post her SFX works on her social media page. To her delight, she now has a large following who admire and are interested in her work. Her page shows her works which are so realistic they seem almost eerie at the same time. They include hands with fingers which have been ripped off as well as deep cuts and brains hanging out of skulls.
Bayati said that life more many Iraqis is much like a horror film. They experience bombings daily which make gory images on the news a daily occurrence.
Fake blood is one of the most important elements in her creations. She makes it by mixing white honey, red dye, and cocoa powder together. It hasn't always that simple for her to source her materials and she does all her work from home. She says that the materials she uses are rather simple compared to others which are available abroad. Nevertheless, she has done a great job of finding the equivalents in Iraq to suit her work. SFX make-up is still relatively new to Iraq and Bayati hopes her work will draw attention to the art form attracting the attention of filmmakers.
Following the U.S. – led invasion that overthrew Saddam Hussein in 2003, Iraq's movie archives and equipment were looted. Sectarian violence in the country drained Iraq of its artistic talents. Furthermore, film productions in Iraq slowed down drastically, causing the film industry as whole to deteriorate to the point where laboratories and cameras fell into disrepair and cinemas were shut down.
She says that she dreams of being part of the SFX team in an Iraqi thriller, one which could represent Iraq at international film festivals and in Hollywood.
"My ambition is to work in a horror movie that can make its way to Hollywood, an Iraqi film that can go to Hollywood, "says Bayati. She wants to help create a movie that can attract enough support and attention from people who can provide the finances for the materials needed to make an outstanding production for Iraq.
Iraqis have capabilities and talents, but not always the resources they need to compete with the international movie industry or take part in many international festivals as other countries do.
Independent film production companies in Iraq have still done some admirable work. For instance, Son of Babylon was a privately funded war film which won numerous international awards and was selected to be Iraq's official entry into the 2011 Academy Awards.