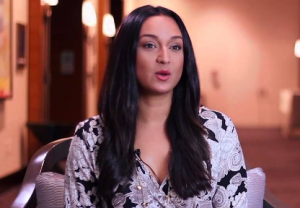 Lubna Najjar explains that it's the Arabic hospitality that she wants to invite people to see. Najjar is the proud owner of Lubna Designs INC., and a new fashion showroom.
Najjar is a proud American-Arab and incredibly talented when it comes to fashion design. She has enjoyed a lot of success over the years. Highlights include her collection of 25 beautiful fashion pieces gracing the runways during New York Fashion Week and Columbus Fashion Week in 2013. Najjar is passionate about the power of fashion. She believes what people wear can empower them.
In her earlier years, Najjar spent a lot of time sketching different designs for her friends and family. It allowed her to show off her creative streak. She spent hours cutting pieces of paper out and using them to create outfits. Her hobby soon led to a career.
Despite her talent, she was surrounded by a culture that only raved about degrees in engineering, law, and medicine. Fashion was far from everyone's radar. Given this, Najjar opted to attend Kent State University to complete a degree in Political Science and Pre-law. As time went on, Najjar realized that her two passions could be combined. She particularly enjoys the strategic side as well as the creative elements when it comes to fashion. Najjar argues that designing garments aren't just about fashion and modern trends; it's about structures, fabric, frames, and formulas. The scientific parts are just as enticing as the final product for Najjar.
Back in 2013, Najjar participated in the Dubai Fashion Festival, located in the United Arab Emirates. Thousands of people from all over the world come together every year to see the event. Najjar labels the event as the moment she learned to follow her heart. She describes how it was an inspiring event that led her to fight for her dreams.
Najjar credits the excitement of 2013 and the undying support from her family as what led her to launch Lubna Designs Inc. Since the inception of her range; she has gained clients from New York City, diplomat families in Washington D.C. and even patrons in Jordan. Her unique collection has taken the world by storm.
The innovative designer has continued to work hard and recently graduated with a Master's Degree in Business Administration. Her aim is to continue to work on her brand, ensuring that is it more internationally recognized. She takes great pride in producing designs that are unique and statement pieces. However, she hasn't been short of inspiration along the way, naming the likes of Zuhair Murad and Elie Saab as two of her best role models.
Najjar wants to use her new showroom as a platform to showcase Arabic hospitality. Her showroom will feature many different Arabic designs along with a group of professional stylists and a beauty bar. Her showroom provides people with a unique shopping experience. She hopes that her showroom will be an excellent way to showcase her talent and culture. Keep an eye out for Najjar's showroom and her new collection due to be released next year.